Uncategorized
Webinar – Future of advanced driver assistance systems and autonomous cars
Webinar on
Future of Advanced Driver Assistance Systems And Autonomous Cars
by
Anjana P Das
Senior Engineer
Tata Elxsi Limited
Date: Thursday, 31st May 2018
Time: Thursday, May 31, 2018 6:00 pm
India Time (Mumbai, GMT+05:30)
Registration:
Participation is free.
Abstract of talk
Advanced driver assistance systems (ADAS), among the fastest growing segments in automotive electronics, is the key to the autonomous operation of vehicles. Demand for ADAS which aids in monitoring, warning, braking, and steering is expected to increase over the next decade. This will be fuelled largely by regulatory and consumer interest in safety applications that protect passengers and reduce accidents. ADAS features can greatly enhance safety and convenience thereby enabling stress-free driving under these conditions. Fully autonomous cars are being tested on roads today, and the first commercially available semi-autonomous cars could be on the road in the next 1-2 years. However, that innovation comes with risks. Turning control over to software could lead to new hacking vulnerabilities and other hazards and liability issues. Cars that allow drivers to intervene in emergencies is a more likely scenario in the near future.
Speaker Profile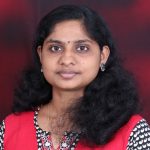 Anjana P Das holds the position of Senior Engineer in TATA Elxsi and focuses on artificial intelligence based solutions for the research and development activities in the organization. She received the B.Tech degree in Information Technology from the Kerala University Thiruvananthapuram, India and the M.E. degree in Computer and Communication Engineering from Anna University, Chennai, India. She recently submitted her Ph.D. thesis in Computer Science and Engineering at University of Kerala, India. Her research interests include sensor networks, localization, intelligent systems, driver assistance systems and automotive bigdata. She has published papers in reputed journals and international conferences. She is an active member of IEEE, IEEE Communications Society, and ACM Trivandrum Chapter.
Please direct inquiries to:
Mr. Shankar J
Ph : +91 9344775577