Uncategorized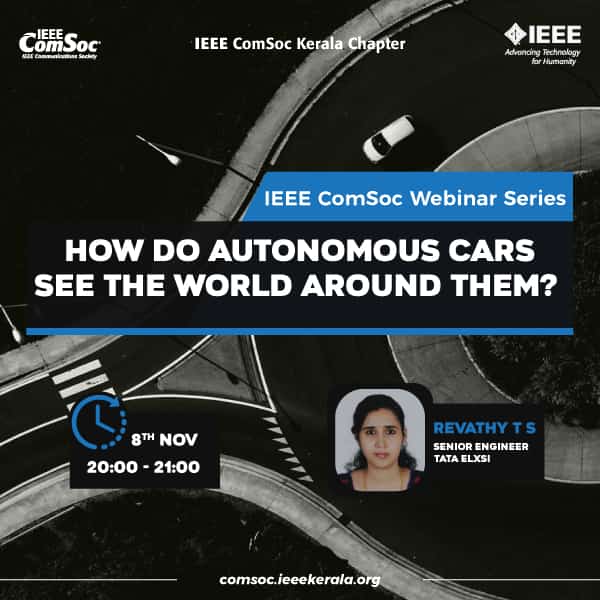 Webinar on "How Autonomous Cars See the World Around Them" on 8th November 8.00 pm to 9.00 pm
Abstract :
How Autonomous Car Perceive its environment:
Driver-less cars, which were hitherto limited only to sci-fi movies, are fast becoming a reality. Autonomous vehicles are expected to play a pioneering role in alleviating the problem of traffic congestion, in lowering pollution levels and in preventing accidents. An autonomous vehicle uses body-mounted sensors to detect and respond to changes in its environment. Relying on the feedback from the sensors, it responds to obstacles on the road, avoids collisions and ensures adherence to traffic rules. The sensors used by such vehicles range from ultrasonic sensors to radar, Lidar and image sensors. The discussion covers the application of various perception sensors in the autonomous vehicle.
Speaker Bio :
Revathi T.S currently serves as Senior Engineer in Tata Elxsi and  works on various Sensor data processing and Sensor Fusion based applications for
Autonomous and Driver assistance projects. After completing her Bachelor's Degree in Electronics and Communication Engineering from  Kerala University,Thiruvananthapuram, she had a brief stint with Tata Consultancy Services, after which she completed her Masters Degree in Signal Processing from University of Kerala. Her interest areas are Sensor data processing,Sensor Fusion, Signal Processing and Image processing for Driver Assistance Systems.
Registration : http://bit.ly/IEEEComSocWebinarNov